Edit Site Content (Menu Blocks)

Block Wizard

If you are unfamiliar with HTML coding when it comes to linking your portal pages or other external links to a block, you can use the FlexCMS block wizard to assist you. To use the wizard, you'll first need to be on the Blocks Management panel of your portal.

Click on the Create a New Block link and fill in the Block Title field (optional) and from the Block Type, select Main Menu. Once you select Main Menu, the Custom Block Contents, Convert Line Breaks, Convert Links and Process PHP Code areas are locked/gray shadowed (Figure 6). Simply complete the information in the remaining fields as you desire and then click on the Save and Run Block Wizard button (Figure 7) at the bottom of the page.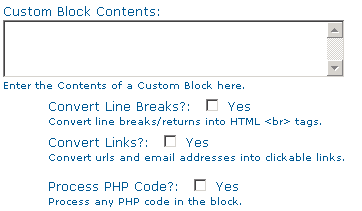 Block Wizard - Main Menu Block

In order to create links in your newly created Main Menu block, you need to complete the Wizard form to create at least one link. What follows is an explanation of all Wizard form fields.
Text
Fill in this field to show the actual text you want displayed in the Menu for this link. You may use HTML coding in this field (see Warning below).

Note: If you are using an image in your menu for this link, filling out this field will help identify it and will be the alternate text when viewers place their mouse on the image button.

Warning: If you change the font style or color using HTML coding in a block, that change will only be displayed in that block title area and will not apply to the remainder of your site. The font style and color settings can be changed in your Modify Site Display Preferences area.
Link
You may complete this field for both internal and external links. Type the link code as follows:

to link to a a page within your portal, type code as: pages/NameOfYourPageHere
to link to an external site, type code as: http://www.domain.com

Image
If an image is to be used instead of a text link, place it in the /menu folder under the main site directory and enter its file name here.
Code
If you would rather have custom code printed in place of the pre-built menu item, perhaps an image with mouseovers, enter it here.

Note: We suggest you also enter a Text name for identification purposes, if you haven't done so already.
Permission Level

The minimum permission level required to see this item, i.e. 0=Everyone.

Tip: You can also set the level to "g", if you wish for only guests to see it. You can either type the letter "g" or use the drop down box and scroll to the top to select Guest.

Enabled
This field controls whether or not your block is visible or invisible for everyone. If you select No (Invisible), no one will see your block, including you. If you want to make a block visible, but only for certain groups and/or people, you must select Yes (Visible) from this area and the assign it to the groups/people in the Minimum Permissions Level area below. The default is Yes (Visible).
Priority
Used to determine the order the items appear in. A larger number will put it closer to the left or top.
Tip: Don't forget to click on the center button named "Save" or "Save As New" to save your link information.