COMING SOON: FlexCMS 3.2.2!!!


Home > FlexCMS Training Manual > Pages > Pages


Pages

An Introduction



Posted: August 13th, 2005 @ 11:58pm



This area of the FlexCMS Control Panel allows you to Create, Edit, Delete and/or organize pages and internal categories. Keep in mind that any edits made to any page will be immediately changed once the page is saved and will be viewable immediately to those groups with permission level instantly.
In addition, once a page is deleted, it is removed instantly and cannot be retrieved, so please be careful when using the delete page. It is highly recommended that you create a backup of the page you want to delete before proceeding.
Click on the Pages link and you?ll then see the following (Figure 8):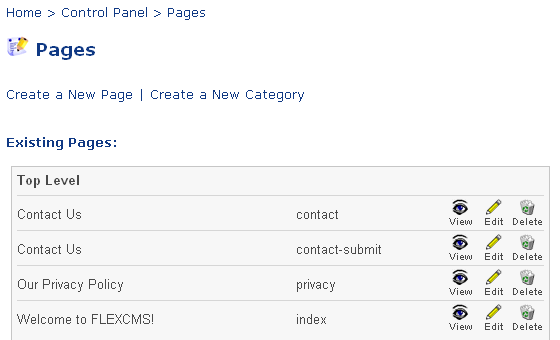 Figure 8
This area displays the pages within your FlexCMS site. You can Create a New Page, Create a New Category, View, Edit and/or Delete your pages and categories from this panel.
FlexCMS delivers four (4) pages for your convenience. These pages are as follows:
Index
This is your welcome page and can be easily replaced with your content using our Page management area in your Control Panel.
Contact

This is a fully functional contact form. Please feel free to use it in it's entirety. Your users can also check a box to have a copy of the contact form sent to them as well. All fields are required to be filled out by the person who is filling out the contact form.




Note: Emails will be sent to the email address listed in your Modify Site Preferences area.

Contact-Submit

This page contains the actual processing code needed for the contact form to work in your portal.

Note: It is highly recommended that you do NOT modify this code unless you have advanced programming skills.

Privacy Policy
This is a sample privacy policy page. Please feel free to cut and paste your own policy here. You may also use all or any of the information below as well.