Menu



Showcase




COMING SOON: FlexCMS 3.2.2!!!


Home > Advanced Features


Advanced Features

Listed below are just a few of FlexCMS's powerful advanced features.
Block Menu - Easily change the location of your menu blocks by simply clicking on the up or down arrows without having to Edit the block itself.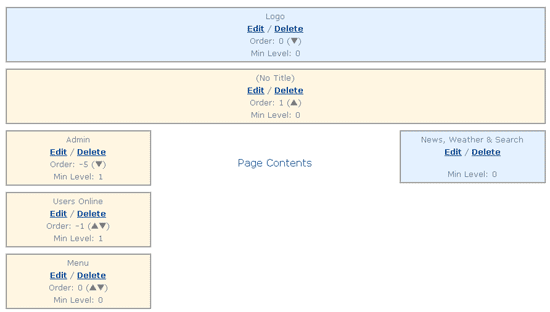 FlexCMS Menu Blocks
Permission levels - Streamline your organization by setting up groups with different rights and permission levels. Easily assign rights for creating pages (content), calendar events, forum moderating, etc. to one or more people in your organization. There are a total of 100 access levels possible. FlexCMS delivers seven (7) pre-programmed permission levels and leaves the rest to you!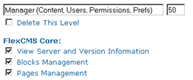 FlexCMS User Permission Levels
Page Start/End Dates - Ever wanted to create a page in advance and have it show up on a certain date on your website without having to do it manually? It couldn't be easier with FlexCMS' advanced start and end dates for all your pages. Simply create your page and assign it a start and/or ending date and leave the rest to FlexCMS!

FlexCMS Page Start & End Dates
Registration Form - Flexible! Easily add fields to your registration form. You can select required, optional or even disable the fields depending on your needs. FlexCMS even provides you with three custom fields where you choose the content you want your members to enter!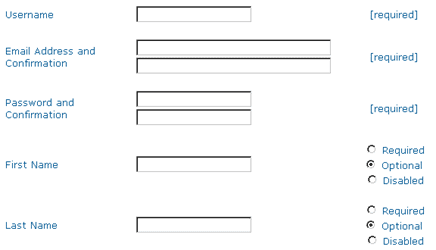 FlexCMS Registration Form Fields
View Where They Are Now - Ever want to know how many people are on your site and what pages they are looking at currently? With the power of FlexCMS, you can easily see where any member or guest is currently viewing as well as the previous page they were on.

FlexCMS Where Are They Now
View Members List - This page displays all the registered users, as well as their access level and last activity on the site. You can also sort this list by clicking on the desired column title. And by using FlexCMS' permission levels, you control who can see this information, i.e. Administrators only.

FlexCMS Members List


MEMBERS



FlexCMS eNews

To subscribe to our enewsletter, please enter your email address in the box below and click the "Subscribe" button.

Note: You may easily remove yourself from the newsletter list at any time by following the instructions included with every mailing.