Menu



Showcase




COMING SOON: FlexCMS 3.2.2!!!


Home > FlexCMS Features


FlexCMS Features

Listed below are just a few of the features available in FlexCMS!

Control Panel - Powerful. Easy-to-use. At the heart of FlexCMS is our advanced, easy to use and extremely powerful control panel. Below is a snapshot image of the Control Panel, as well as a list of some of the key features incorporated into this amazing product.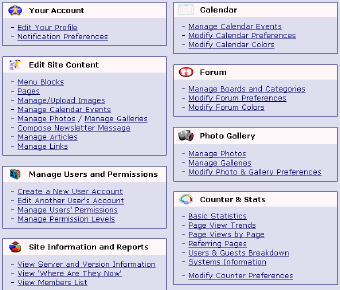 FlexCMS Control Panel
Some of the options our control panel offers you are:
Menu Blocks - Create as many different navigation menus as you need. Easily link your pages using our Block Wizard.

Pages - Easily create your own pages by entering text, images, url's and much more without any HTML knowledge using our HTML Editor. Also supports HTML which can be imported, manually edited and used without concern!

FlexCMS Mini HTML Editor
Calendar - An easy to use calendar system that includes a main calendar with dates for the next 30 years. You can choose from a pop-up window or detail page for each event with details entered and a day view page with all events for that day. You can easily assign any user permission to create and manage events through their control panel.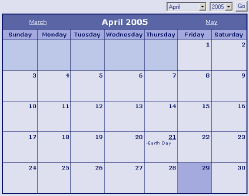 FlexCMS Calendar
Forum - A basic user friendly forum (message board/bulletin board) package. Includes but is not limited to, support for unlimited boards, categories, threads and messages; Flex Formatting Codes that allow the easy insertion of links, images, text styles, sizes and colors and other formatting options as well as smilies, optional moderator and administrator permissions.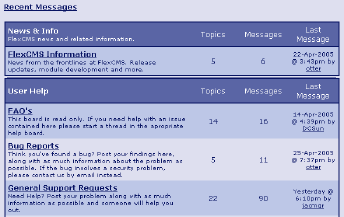 FlexCMS Forum
Templates - Choose from 40 pre-designed templates or create your own*. Below are just a few, click here to see more!
*We also offer a custom template service,
contact us
for more information.

But that's not all!


MEMBERS



FlexCMS eNews

To subscribe to our enewsletter, please enter your email address in the box below and click the "Subscribe" button.

Note: You may easily remove yourself from the newsletter list at any time by following the instructions included with every mailing.